Overview
In the following I will add links to the individual parts of the travel report:
There's also a German version of this report in the forum outdoorseiten.net.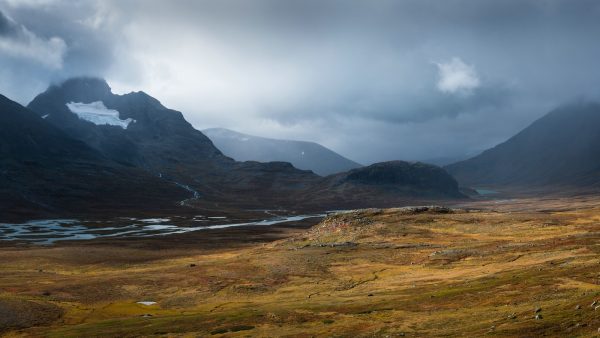 Sarek – 4th Iteration
Several years ago I went on my first hike in Lapland, in Sarek national park. Since then I have come back to Swedish and Norwegian Lapland many times. For the Sarek area this is my fourth visit. While I revisit places, usually there are also some new vistas on my itinerary.
This report is about a two week hike through the national parks Stora Sjöfallet and Sarek in mid September.
How I got there
I chose to travel by train (and bus) instead of flying. From Hamburg (Germany) where I live, there is a train connection to Copenhagen and from there to Stockholm. From Stockholm I took a night train to Gällivare and then went by bus to Kebnats (there is a boat service to the mountain station Saltoluokta).
My Hike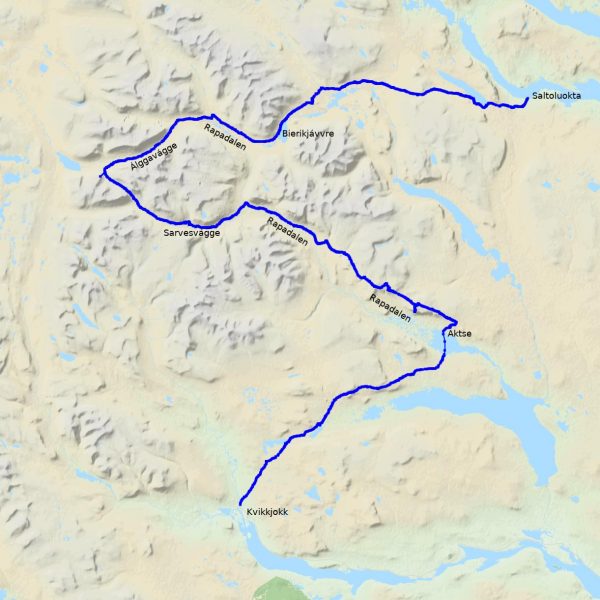 My hiking route, which is depicted in the map above, was as follows:
Saltoluokta – Pietsaure – Bierikjávvre – Skárjá – Álggavágge – Sarvesvágge – Rapadalen – Aktse – Kvikkjokk
If you want to follow my descriptions in detail, I recommend the free online map service of Lantmäteriet. The maps have been published as image files and for use on GPS devices also here.
Equipment and Food
In the beginning my backpack was weighing about 25-27 kg. In the following a short summary of the gear I carried for those of you that are interested in such details.
Tent: Hilleberg Akto
Sleeping bag and pad: Western Mountaineering Apache, NeoAir All Season
Backpack: Bergans Alpinist 110l
Cooking: Trangia (small), 1l of alcohol
Clothing: The usual layers, cheap rain gear
Photography: Sony A7RII and lenses 21mm, 50mm and 135mm; carbon fibre tripod, filters, waterproof camera bag made by Ortlieb (this one failed me during the hike)
Elektronics: inReach Mini satellite messenger, 2 powerbanks with 10Ah, camera batteries, headlamp
Food: Dinner based on pasta in different self-made dressings (e.g, with Parmesan cheese and olive oil); breakfast: semolina and rice pudding (hot); lunch: salami, nuts, chocolate, etc.
Other stuff: hiking poles and a lot of small things (such as map and compass, shoes for wading streams, drinking bottle, …)