Last month I have been to Lapland again for a 9-day trip on skis. I'm currently reviewing the images. On my 4th day I found a really nice camping spot at about 1100 m of altitude. When it got dark and the temperature dropped to about -20°C, I went outside in the hope for the northern lights to appear. Unfortunately, they did not appear that night. Instead, I captured the clear night sky without them: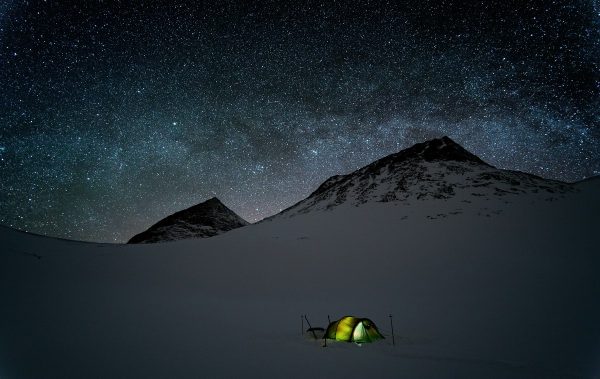 That night I did not know that later on I would indeed witness a spectacular display of the aurora. Thus, I was a bit disappointed. However, after seeing the image on a larger screen I was quite happy with the result and feel that it was worth the effort.
In comparison to last year's trip, the temperatures were a lot lower. This turned out to be a challenge for my mirrorless camera equipment. In fact, in the night when I took the image above my camera refused to work with a strange error at first. Fortunately, after warming the battery within my glove I could finally convince it to operate.