Towards Midtistua
From Bjellåvasstua we took the trail south along the lake Nordre Bjøllåvatnet. This whole section offers nice views across the water. The wind still remained strong but the sky was mostly clear.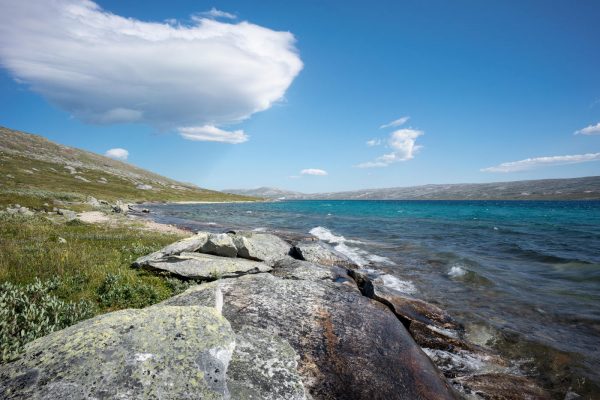 From the southern end of the lake the trail follows the Bjøllådalen valley until Midtistua. There we met some of the hikers we had seen already at Bjellåvasstua. However, they all went into one of the two buildings – we took the other.
The weather had deteriorated by then and heavy clouds were rolling in. Finally some interesting skies for photography: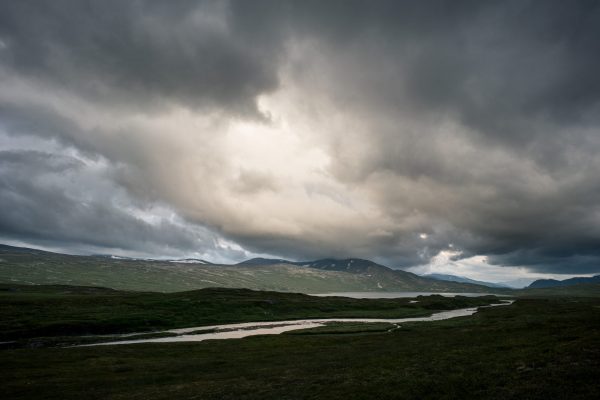 It started raining heavily and we were happy to be in the hut. The next morning, there were still interesting cloud formations and I captured another photo with a similar composition but very different light: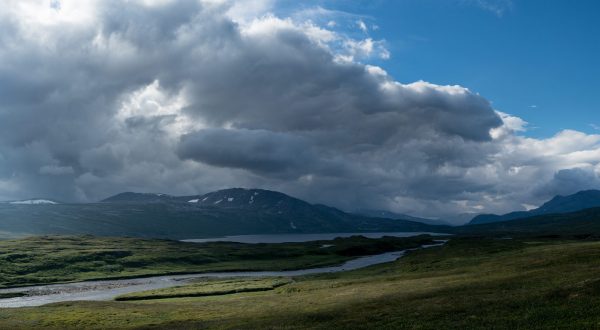 Around Søre Bjøllåvatnet
From Midtistua a marked trail leads towards Steindalen, a stony passage between two mountains. Early on, there's a footbridge across the stream Bjøllåga.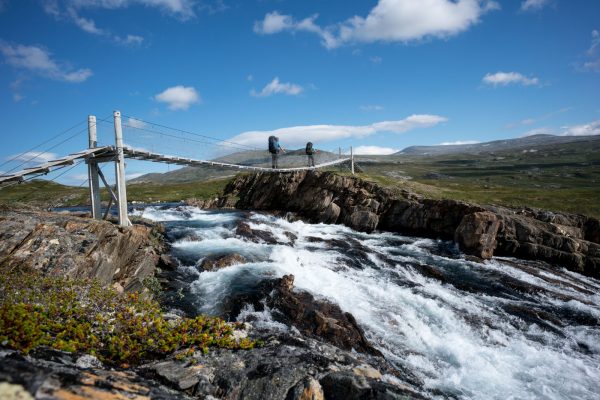 In the above image we're standing both on the bridge, which turned out to be a bad idea. A sign at the other end said to cross "one person at a time". There was no such sign at our side, unfortunately.
As the trail ascends steadily, the lake Søre Bjøllåvatnet located in a depression of the landscape comes into better view: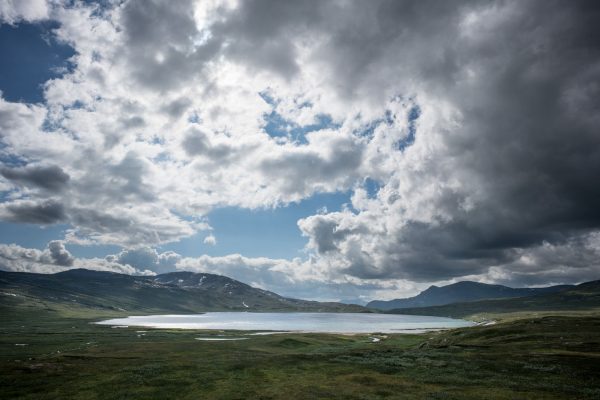 We didn't feel like walking through Steindalen (the "valley of stones") the same day and thus decided to stop before the terrain got too stony.  The setting sun gave us a beautifully colored sky that evening: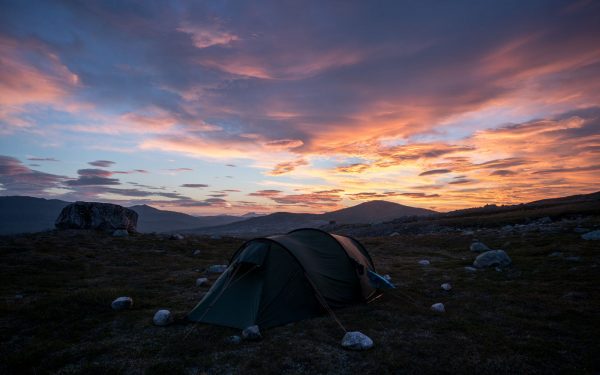 It was really great having lots of spare days and not needing to worry about arriving at our destination in time.
Steindalen – Lønsdal
The next day we crossed Steindalen which meant stepping from stone to stone for a few kilometers. But in the end, it was not as bad as we had expected according to other travel reports.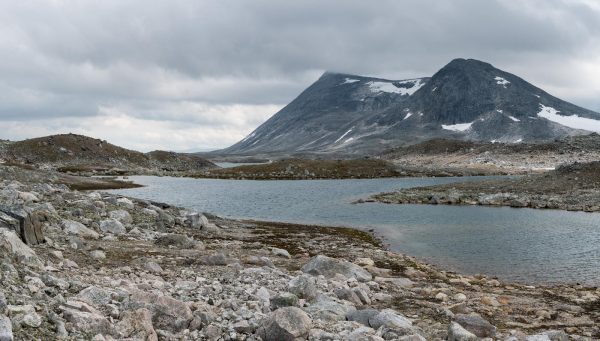 On the way we passed the lake Lønstindvatnet. After the pass, the terrain lowers towards the stream Kjemåbekken. Slowly the rocky ground gives way to grass and heather. There are nice camping spots near Kjemåbekken with views towards the surrounding mountains.
As we wouldn't have been in time for our train back to Bodø anyway, we spent our last night here.
The morning turned out sunny again. As we were spoiled by the weather during our trip, it would have seemed strange to us, had it been otherwise. I used the quiet morning to take some pictures of the surroundings.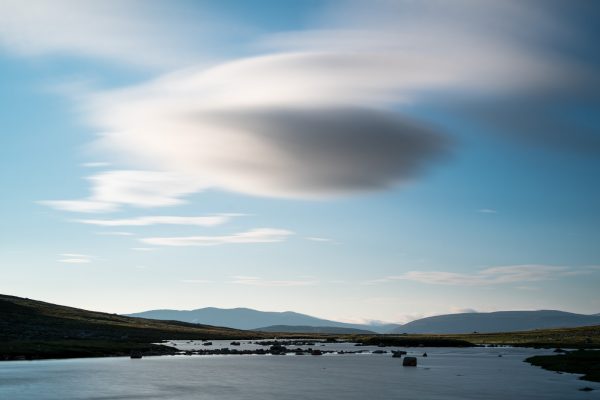 The remaining last section of the hike to the train station in Lønsdal is rather short. On the way, one passes another lake: Kjemåvatnet. There are nice panoramic views from the trail:
From Kjemåvatnet, the train station is reached after a short descent. As only a few trains stop here, it's worth checking the timetables before.