This gallery features images of landscapes in the western highlands and on the Isle of Skye taken during two Scotland trips. Both trips involved a lot of hiking, allowing me to explore more remote locations.
Loch Lomond
Loch Lomond is the largest lake in Scotland. The popular hiking trail West Highland Way follows the lake's shore. The river Falloch forms interesting waterfalls on its way towards the lake.
Rannoch Moor and Glen Coe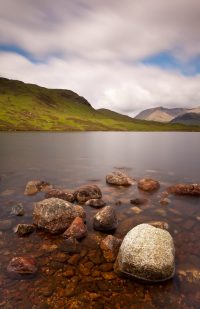 Rannoch Moor is an expanse of moorland that is crossed by the road to Glen Coe and Fort William. The valley of Glen Coe is surrounded by spectacular,  steep mountains and is a popular tourist attraction due to its road access.
Isle of Skye
The Isle of Skye is the largest of the Inner Herbrides on the Scottish west coast and features dramatic mountain scenery as well as interesting coast lines.
Along the Skye Trail
The Skye Trail crosses the island from Broadford in the south of Skye to the northernmost point of the Trotternish peninsula (or the other way round). The part of the trail following the Trotternish ridge is especially stunning. Hiking the whole length of the trail is usually done in one week.
Sgurr na Stri, Loch Coruisk, Fairy Pools and Neist Point

The hike to Sgurr na Stri from Sligachan offers great views down to Loch Curuisk and the Cuillin Range with its rugged peaks. Other great locations on Skye are the fairy pools near Glenbrittle and Neist Point.
Letterewe Wilderness Area, Loch Maree, Beinn Eighe
During a four-day hike I explored some of the wilderness area north of Loch Maree. The Beinn Eighe mountain range is to the south and offers interesting hiking routes as well.
Assynt
The Assynt region is located in the north-west of Scotland and certainly worth exploring. Unfortunately, I have not been able to spend very much time there, but I will return.